Summer Solstice on Scotland's North Coast
Scotland's North Coast 500 has become one of the most sought-after cycling epics to be experienced! Starting this iconic loop in The Capital of the Highlands you'll cross the river Ness waving adieu to Johnny Foxes (don't worry you'll be back for a well deserved pint) and head out west … against the wind of course! We take you this way, because we wouldn't want to lull you into believing that this, now world famous cycle route, is in any way for the faint-hearted. It is most definitely for those who seek a challenge and are up for tackling some tough climbing in what can be pretty adverse weather conditions; without which however one can't possibly fully appreciate the unique raw beauty the rugged highlands of Scotland have to offer.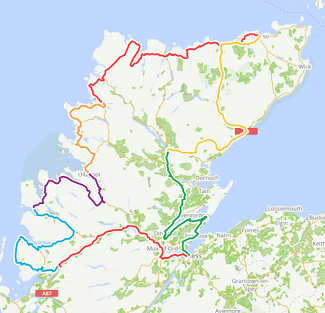 Beelach na Ba is without doubt one of the hardest ascents you will ever attempt on your bicycle. And it's not the 25% gradient section or the switchbacks that make this tough: even on the calmest of Scottish summer days the wind will be there. Have we put you off yet? We hope not because only once you have descended the other side of the steepest ascent in Scotland will you reach the unsurpassed beauty of the stunning west coast of Scotland and be able to marvel at the sheer wonder of the sights as you travel up to the Lochinver Pass … and the best is yet to come …
Day One Inverness to Strathcarron
You'll head out of the city closely following the River Ness following the Tourist Board marked NC500 route and within 2 miles you'll cross a humped back bridge to be greeted by your first glimpse of the many stretches of open water you'll see on this coastal tour with a beautiful open view of the narrowing estuary of the Moray Firth No tour of Scotland is complete without a whiskey whiff and after a 20k warm up we pop in to The Glen Ord Whiskey Distillery at Muir of Ord where you can start with your first flavour of Scotland: Tastings are available without appointment. Don't go mad however! Tomorrow is a BIG day! For those who would like a full distillery tour this can be arranged in advance and we have taken this into account in support for today's route but it is necessary to book well in advance. We are happy to transport any purchases AT YOUR OWN RISK (we like Whisky) in the support van. The Bad Girl Bakery is round the corner for anyone keen to have coffee at this stage. Further down the road at 35k The Coffee Bothy is also a handy stopover point right on route Midge Bite Café in Auchnasheen is a last coffee stop before you turn left into the wilderness towards our first overnight stopover point at Strathcarron Hotel.
Day Two Strathcarron to Inverewe
The notorious Beelach Na Ba climb day! We give you a tiddly hill to warm up on and then you drop your gears … Downhillers paradise then a glorious ride around the headland
Day Three Inverewe to Ullapool
Now it starts to get real pretty. If you are a photographer beware – today you are likely to make no ground at all if you give in to your photographic tendencies If it has just rained (as it is will to do here from time to time) you'll hear the all too familiar sound after a while of the gushing torrents of water coming down the roadside banks towards you. Teeming streams and waterfalls adorn the hillsides making a stunning stripey curtain on the sides of the valley. Try to resist the temptation to stop every five minutes and breathe it all in or you'll NEVER get there! The beauty of the bike is you can do all of that while still pedalling and remember you can always come back!
Day Four Ullapool to Durness
The lead up to Lochinver from Inverewe and through the Lochinver Pass will be one of the biggest memories you take home with you from this ride; not just for the relentless undulation (which you will forget about, honest) but the rustic beauty that greets you at every turn.
Day Five Durness to Thurso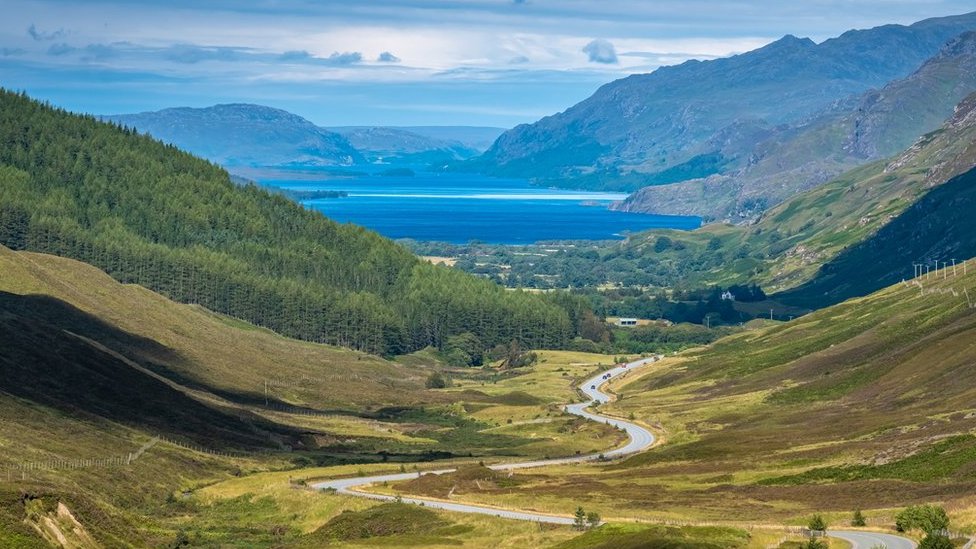 The longest day of the year! Enjoy every minute of it as you make your way across the northernmost coast of mainland Scotland to Caithness, home of the crystal ball. Smoo Cave is your first point of interest today as you leave the Durness area and head east along the coast of the North Atlantic With any luck we've got you going in the right direction for the wind. 95% of the time it's behind you. (No refunds if it's a 5% day). Sandside Bay is a beautiful beach well worth a paddle if you're that way inclined. Thurso also has a lovely sandy beach for your pre dinner evening sunset walk – athough at this time of year that could mean a relatively late night …
Day Six Thurso to Lairg

This is where we deviate a little from the main NC500 route largely to avoid the very busy A9 and although you miss John O'Groats, trust me, you'll have had sufficient wind and barren heather by this point to give you a full enough flavour of Scotland without being subjected to the rather long drag just to say you've been there! Our route doubles back along the north shore on a slightly different road before turning to follow the main Timber Haulage route south. The scenery you'll notice changes from the rocky crags and cliff faces of the west to take on a rounder rolling hillside still peppered with heather and broom and a surprising amount of water given how inland you are now: Scotland has an abundance of lochs and lakes carved into the Highlands mainly stemming from its glacial formation.
Day Seven Lairg to Inverness
As you travel south from Lairg (all downhill of course) you'll follow the line of the valley of the many rivers that flow between the lochs. The Black Isle circuit out to Cromar provides a fitting end to your Highland tour summarising many of the main Scottish Industries : Tourism, Whiskey, Fishing and out to sea you'll see the Rigs resonant of the decaying Oil industry that has contributed greatly to the growth of the East Coast economy and the resultant boom in tourism as those who traveled here for work wrote home of its beauty ... Johnny Foxes will be open when you get in tonight.